Human-Machine-Interfacing
Neuro-Engeneering
Goal: Bridging the gap between the biological system "brain" and technical systems to foster direct and bi-directional exchange between both.
We therefore work on:
Design and test of novel connectors to and from brain tissue.
Built and use novel high-performance and realtime data acquisition systems for many channels (and neurons).
Analyse and utilize huge neuronal data volumes.
Understand a little more about our target areas by modelling of big realistic neuron networks.
Come as close as possible to clinical useful applications.
Click on the interactive graph below to reach some aspects of our research: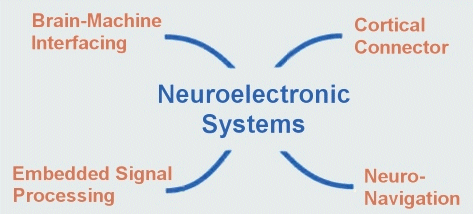 Section of Neuroelectronic Systems
Prof. Dr. rer.nat. Ulrich G. Hofmann
Peter-Osypka-Professor for Neuroelectronic Systems
University Medical Center Freiburg
Department of Neurosurgery
Engesserstr. #4, 5th floor
D-79108 Freiburg
Phone: +49(0)761 270 50076
E-Mail: ulrich.hofmann@uniklinik-freiburg.de